In january 2016 i began searching for a new car. My 2002 nissan frontier "rat patrol" had, at 278,000mi on the odometer and having been purchased totalled for $400 and rhen essentially pounded back into *a* shape that resembled a small pickup truck begun demonstrating that it was breathing its last gasps of air and gasoline. It did this by occasionally shedding the belt between the crank pulley and alternator, likely due to a bent bracket from the accident it had been in prior to my purchase of the truck. And so it came to pass that in discussions with a coworker, i was offered his fleetwood for $1500.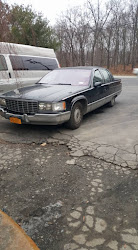 At the time of purchase,
Roxanne had no rear brakes.
She had no functioning heater
She needed the exhaust fixed
Her air did not work
Her tires were bald and had a space between tread and cord.

So of course, i put a set of decent takeoff tires on her and drove her to denver assuming she was up to the task. She was not, and broke down halfway through the trip after a psychotic 41 hours of hard running from The Hudson Valley of New York to Denver,Colorado, where she lost brake pressure in Aurora. After being towed to a pep boys and repaired, she made it back to New York and in summer of 2016 she recieved a new exhaust, ABS pump, and had a window and mirror repaired after being struck by a typically careless senior citizen opening his door into the car as it passed in traffic.